★★★★★ (1,272 Customer Reviews)
Regular price
$75.00
Sale price
$48.95
Unit price
per
Sale
Sold out
Specifications

Mouthpiece is made out of the 100% Food-Grade premium silicone and it is approved by FDA.


Waterproof: IPX7 Rated

Vibration Speed: 48,00/min

Weight: 120 Grams

Battery: 600mAh

Charging: 5v

Color: Black, Blue, White, Pink
How To Use

CHARGING
Connect the charging pad to the USB power outlet and place your brush on the charging pad. 

The light indicator on the Sonic Brush will start illuminating once it's connected. Charging time is 90 minutes. Full charge lasts up to 15x uses.


Note:  Make sure your toothbrush is completely dry before start charging to prevent battery circuit damage!

BRUSHING
Run a few drops of foaming toothpaste on top and bottom of the mouthpiece from one end to the other. Insert the mouthpiece into your mouth.
  If you are using regular toothpaste, put some toothpaste on the top and bottom and spread it around once you insert it in your mouth.

Note: Wiggle your brush left and right during the session for deeper cleaning

3 MODES OF BRUSHING
The brush will automatically vibrate starting with "deep cleaning" mode.

"Deep Cleaning" - Press 1x (45 seconds timer)
 "Sensitive Cleaning" - Press 2x (45 seconds timer)
 "Gum Massaging" - Press 3x (45 seconds timer)
 "Whitening Mode" - Press 4x (15 minute timer) 
Long press to turn off your Sonic Brush.

Tip: Use our Whitening Gel for better whitening results. (Click Here)


CLEANING
Rinse the mouth tray with warm water. Sonic Brush Pro is IP7X rated waterproof.

Note: Mouthpiece needs to be replaced every three months. (Click here for replacement mouth tray)

Removing Mouth Tray

Simply pull the mouth tray from the base. You can also hold the mouth tray under the warm water to make it easier.   
What's Included

Sonic brush Pro

White Foam Toothpaste

Charging Pad

Micro USB Cable

User Manual
✈ Fast 1-3 Day Shipping
View full details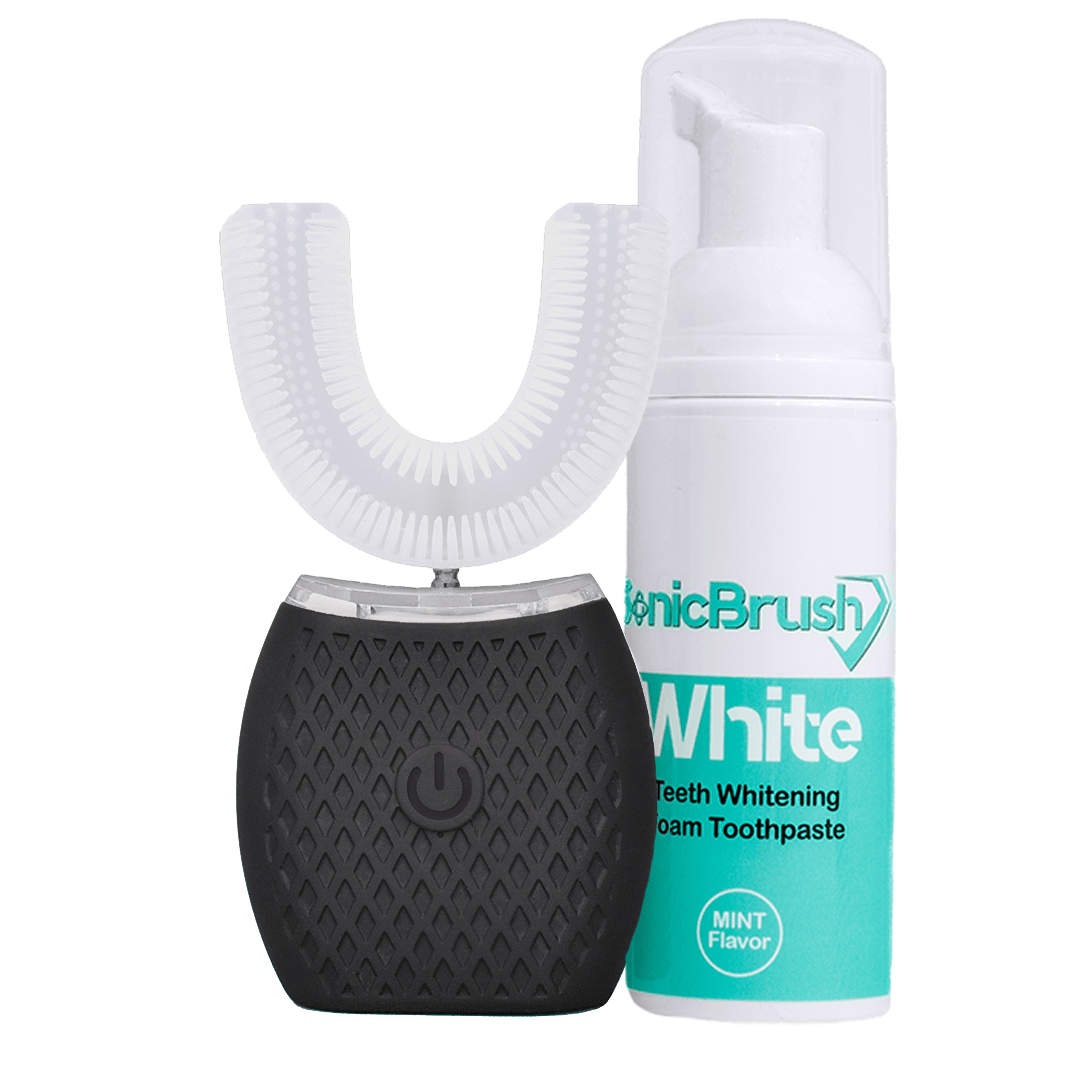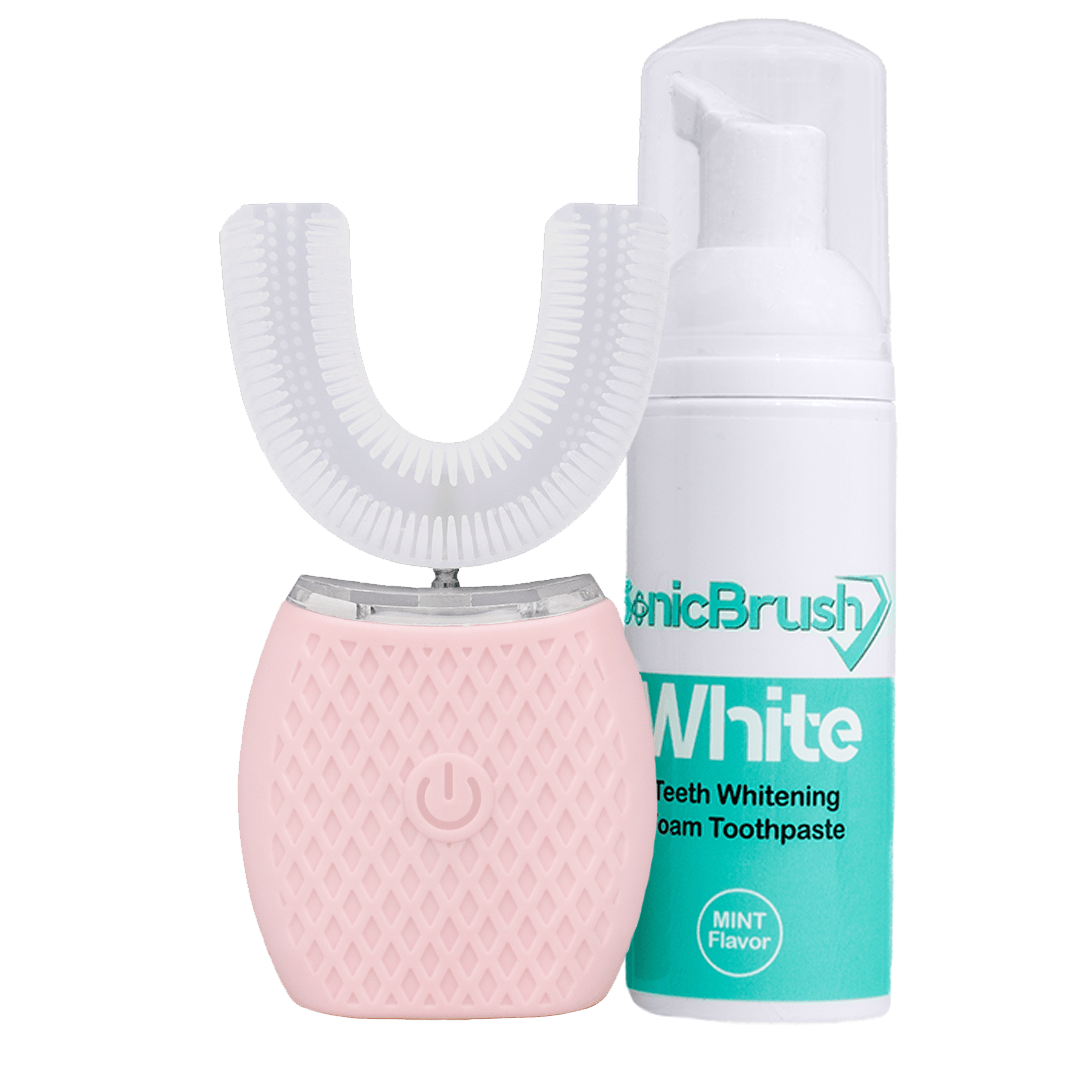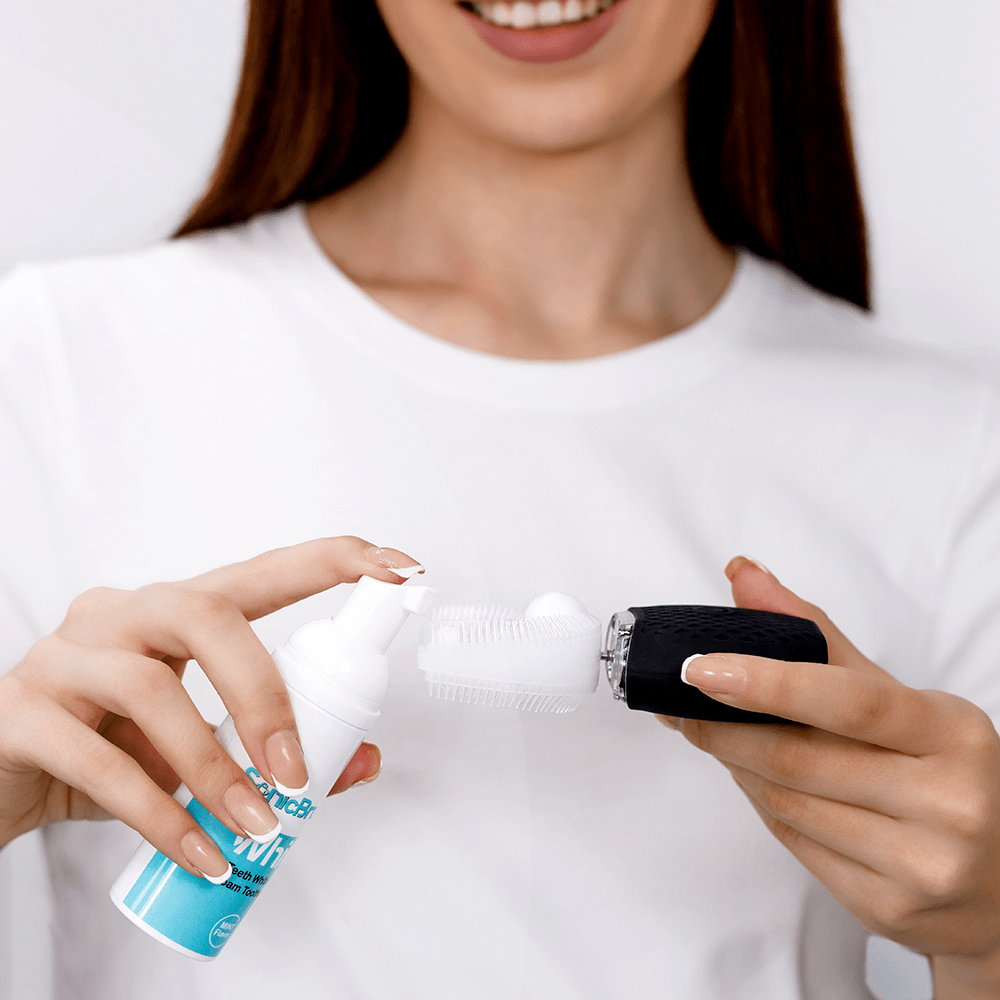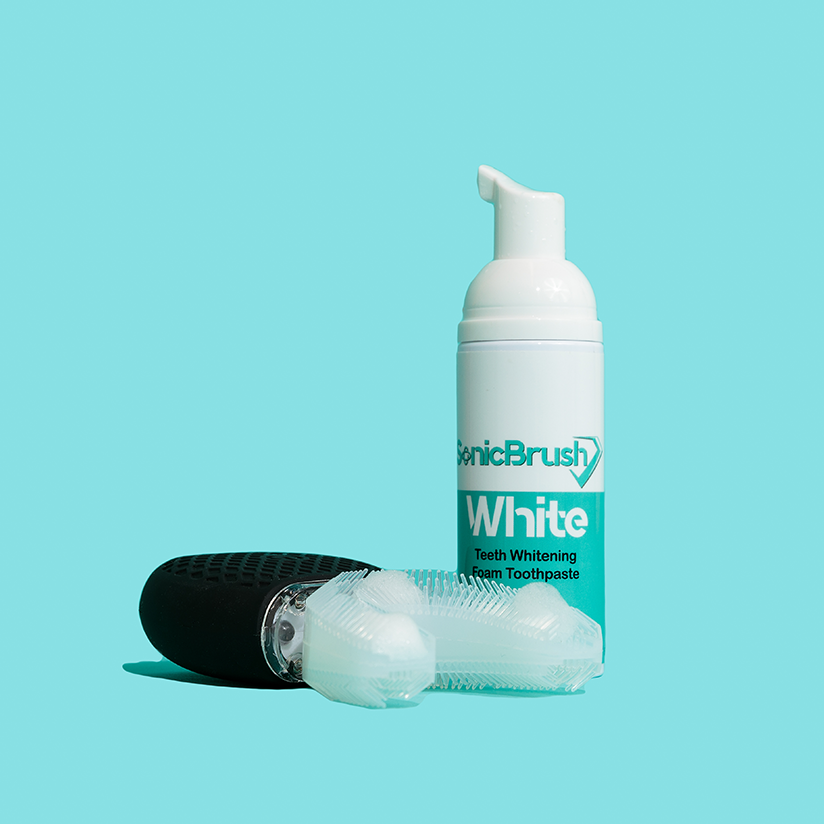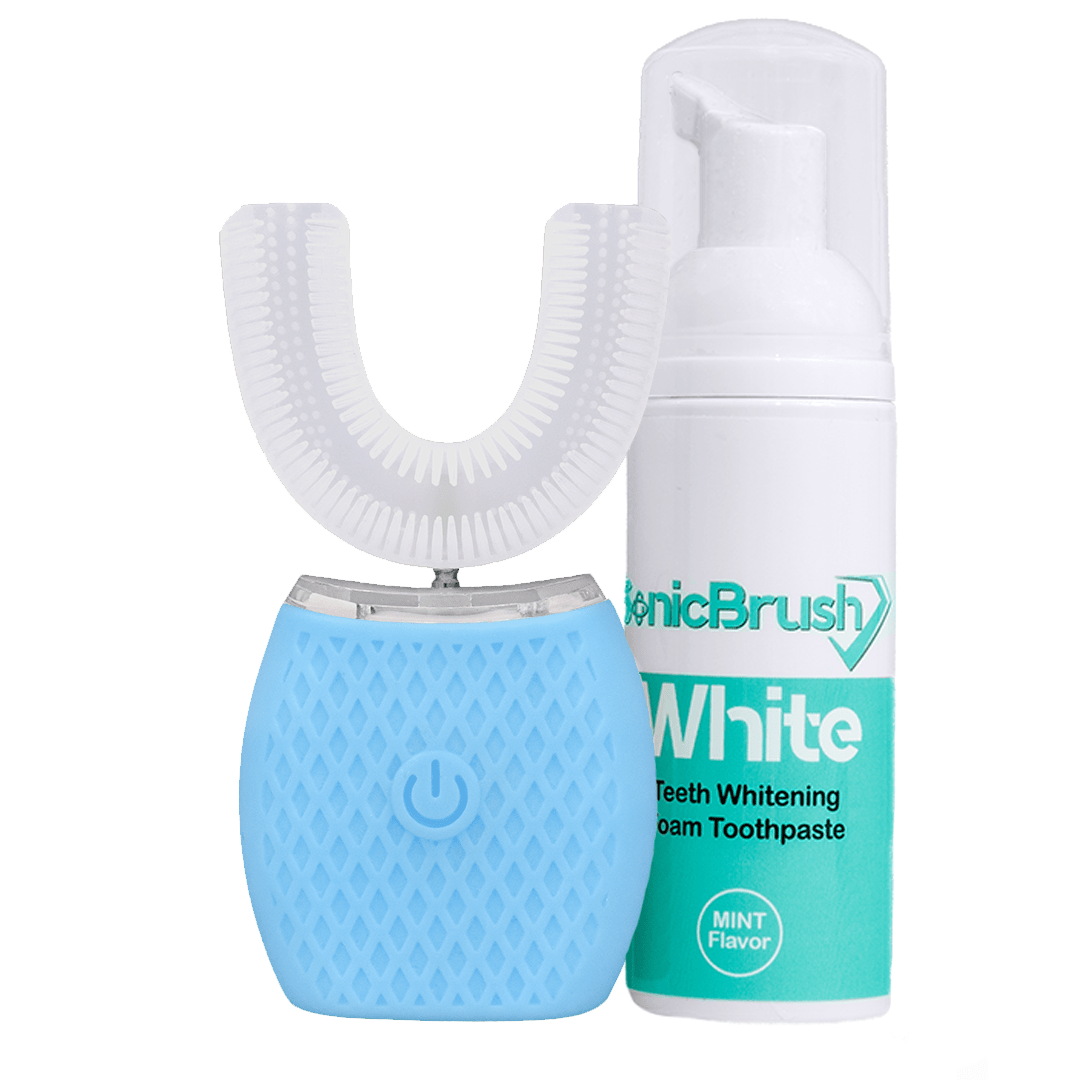 What is Sonic Toothbrush?
It's a personal robot dentist that takes care of your teeth and gums by covering them all around and brushing them in just 45 seconds.
Sonic Brush Pro has a built-in 15-minute Whitening mode that uses Blue light technology to whiten your teeth when paired with Whitening Gels.
NEW ADVANCEDSONIC BRUSH PRO
Full Cover

U-Shaped mouth piece covers your teeth all around without missing a spot.

Teeth Whitening

The built-in 15-minute whitening mode will get you faster whitening results if paired with Whitening Gels.

Sonic Vibrations

48,000 vibrations per minute are blasting the plaque with one of the fastest motor.

45 Seconds Brushing

A unique U-shaped mouthpiece allows you to brush your teeth in just 45 seconds by covering all teeth.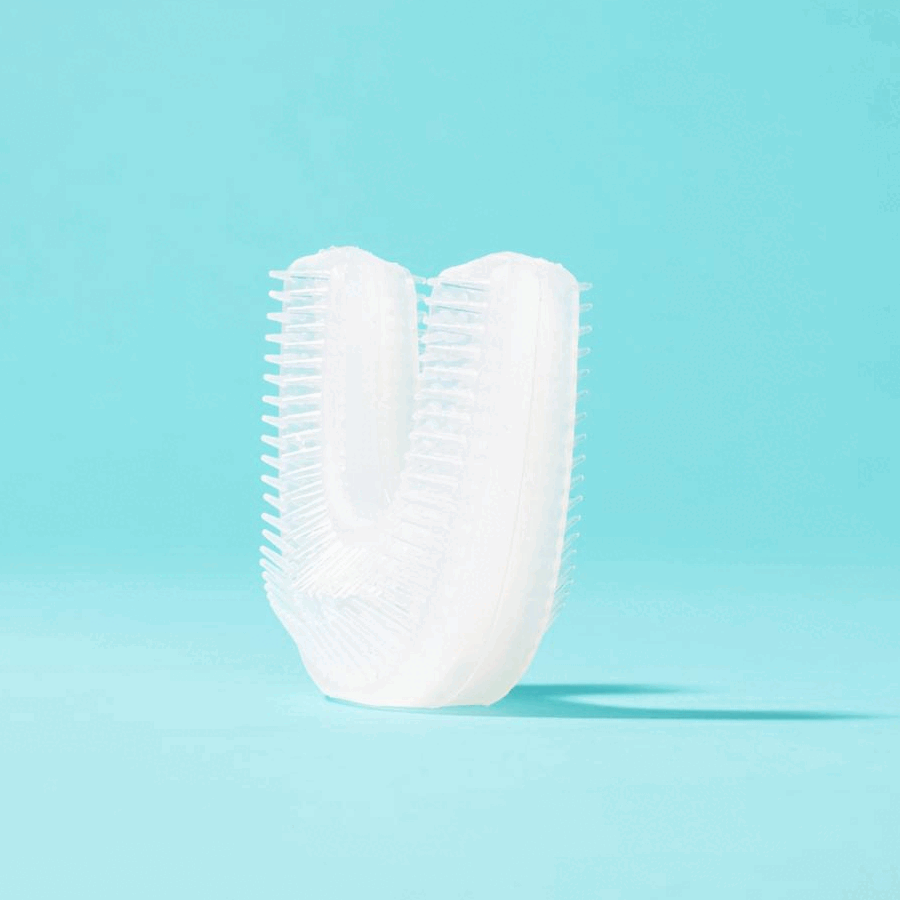 Power of the mouthpiece
This is not an ordinary mouthpiece! World's first toothbrush that actually cleans every-part of your teeth by covering them with extra soft silicone bristles. FDA approved mouthpiece.
FREQUENTLY ASKED QUESTIONS
Q: Can I use it if I have braces?

Yes, the silicone bristles are extra soft, and it won't damage your braces. Just as with a regular toothbrush, additional flossing is recommended.
Q: Is there different sizes for the brush?

All adult brushes have the same size mouthpiece. The ultra-flexible silicone of the mouthpiece adapts to rows of teeth of all sizes.
Q: How soft is the brush head

The bristles are made of silicone reinforced softness grade. They are soft as regular soft toothbrush. It is designed to not hurt your gums and teeth and avoid sensitivity.
Q: How long does the mouthpiece lasts?

Mouthpiece usually lasts up to 3 month per regular use(2x daily).
Q: Where does the brush ships from?

All of our Sonicare products are shipped from our warehouse located in Illinois.
Q: Brush approved by FDA?

Yes, our Sonic Brush is approved by the FDA.
Pair with your SonicBrush
Regular price

$15.00

Sale price

$9.95

Unit price

per

Regular price

$30.00

Sale price

$25.00

Unit price

per

Regular price

$85.00

Sale price

$48.95

Unit price

per
HEAR FROM OUR AMAZING CUSTOMERS! 
Kerri Smith

★★★★★

We love our Kids Sonic Brushes. They are comfortable and fun to brush with. My kids love it!

James Miller

★★★★★

My go-to toothbrush. This unique brush is fantastic looking and does an excellent job!

Christian Graham

★★★★★

Amazing toothbrush that has teeth whitening mode integrated. I am surprised by the whitening result.

Ava Thomson

Really impressed with the quality of Sonic Brush. Absolutely love this toothbrush. Also the best customer service I've ever encountered.